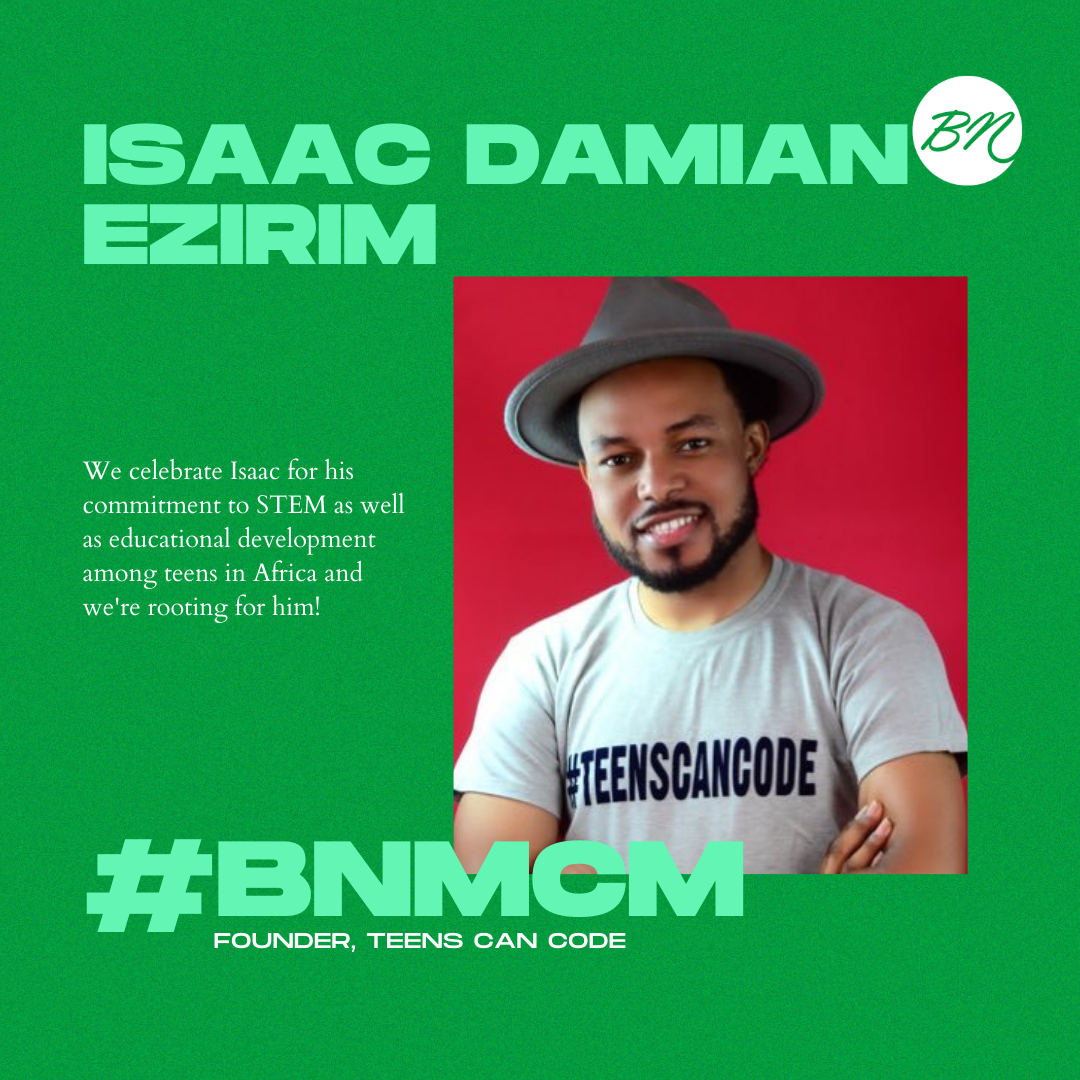 For our #BellaNaijaMCM feature this week, we shine the spotlight and celebrate Isaac Damian Ezirim, the founder of Teens Can Code, an organisation introducing and expanding access to computer programming classes to students aged 11 to 22 years in low–income communities at no cost to them.
In today's world, education must expose students to the knowledge and skills they need to be productive members of society and workforce in a global economy powered by technology. This is why Teens Can Code exists and it's achieving its aim through Teens Code Academy, an after-school coding initiative for young people from 11-22 years of age.
The organisation does not just provide access to technology opportunities for young people in Africa, it also connects them to internship opportunities and remote jobs, ensuring that young people, regardless of where they live or their status, can access the opportunities they need in life to succeed.
Teens Can Code also holds an annual large scale Technology Conference for teenagers titled the Teens Code Conference with the aim of helping the teens interact with tech CEOs and founders and pique their interest in technology.
The organisation also helps set up coding clubs in schools called Geek Nation to help students interested in tech build a community where they learn from each other as well as from Teens Can Code reps.
It's no news that women are grossly under-represented in the tech industry, and Teens Can Code wants to change that through its Go-Girls initiative for young women who are just starting higher education.
Teens Can Code also founded an educational nonprofit – Klevaly – which helps teenagers access technology opportunities and has also expanded its offerings to provide a question and answer forum to assist students in taking on class room challenges. By simply posting classroom queries on Klevaly, students get access to a lot of answers and contributions from other students and teachers in any class subject. Students are also able to share questions, files, ideas and collaborate on solution with ease. Students also earn badges and points that can be converted to pay school fees and purchase educational materials.
Isaac is one of the recipients of the Queen's Young Leaders Award in 2018, is a 2017/18 fellow of the LEAP Africa Social Innovators Program and a 2019 Goalkeeper.
We celebrate Isaac for his commitment to STEM as well as educational development among teens in Africa and we're rooting for him!
The post Isaac Damian Ezirim of Teens Can Code is Our #BellaNaijaMCM This Week! appeared first on BellaNaija – Showcasing Africa to the world. Read today!.